Novak Djokovic, Carlos Alcaraz, Janic Zinner and Daniil Medvedev receive congratulatory words from American tennis star Tennys Sandgren during the semifinals of the 2023 Wimbledon Championships.
Djokovic is into his 12th Wimbledon semi-final, while the other three are making their last four debuts at SW19. Alcaraz, Djokovic and Medvedev are the top-3 seeds and Cinner is the eighth seed this year.
However, it is worth noting that despite the Italian being ranked 8th in the world, he is tied for the fourth best player this season behind Djokovic, Alcaraz and Medvedev in a live race to the ATP Finals. All four players are widely regarded as top-4 favorites for the Wimbledon title this year.
Two-time Australian Open quarter-finalist Tennys Sandgren was surprised to see the quartet's expected dominance materialize at SW19 and expressed her feelings about the rare achievement on Twitter.
"Wimbledon grass is the best surface in the world. It's rare that the top 4 players on the planet actually reach the semis," observed Sandgren.
---
2023 Wimbledon semi-finals: Carlos Alcaraz takes on Daniil Medvedev, Novak Djokovic takes on Janic Zinner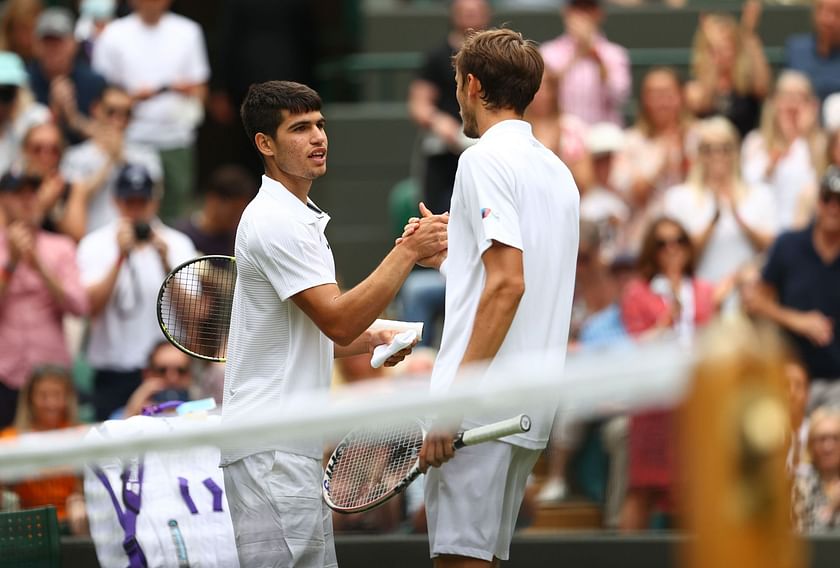 World No. 1 Carlos Alcaraz will face World No. 3 Daniil Medvedev in the Wimbledon semifinals.
The two stars have met twice before. Their most recent meeting was in the final of the 2023 Indian Wells Masters, where Alcaraz emerged victorious in straight sets.
Interestingly, their first meeting was in 2021 at SW19. At that time, the pair met in the second round, and the Russian won in straight sets – 6-4, 6-1, 6-2.
However, their upcoming clash is expected to be more competitive given the 20-year-old's phenomenal rise over the past year. Alcaraz will be the one to engage in the skirmish. He is currently ranked world No. 1 thanks to his maiden grasscourt title at the ATP 500 Queen's Club Championship.
The other semifinal will mark the second Wimbledon meeting between Novak Djokovic and Janic Sinner.
The two met in the quarter-finals at SW19 last year, where the 21-year-old emerged as the Serb's biggest threat, pushing him to a five-set battle. The eventual champion pulled off a comeback victory, ousting Sinner 5-7, 2-6, 6-3, 6-2, 6-2.
Their first meeting was in the second round of the 2021 Monte-Carlo Masters, where Djokovic won in straight sets.
Four-time defending champion Djokovic is looking for his eighth title at SW19. Meanwhile, Sinner is the only player left without a Grand Slam title to his name.
"modalPopup.closeOnEsc = false; modalPopup.setHeader("Why did you dislike this content?"); modalPopup.setContentText(modalText); modalPopup.addCancelOkButton("Submit", resetRatingAndFeedback. modalm, sendopClope.modal); .disableDismissPopup(); modalPopup.open(); } else { sendRating(index); } } function sendRating() { var requestPayload = { "post_id": 1584608, "rating_value": ratingValue } if (ratingValue load) { Pay > 3 request .rating_feedback_type = null; requestPayload.rating_feedback = null; } else { if (!$('input(name="drone"):checked') || !$('input(name="drone"):checked') .value) { showErrorMessage('option'); return; } if (!$(".post-rating-feedback-note textarea") || !$(".post-rating-feedback-note textarea").value ) { showErrorMessage ('note'); return .value, requestPayload.rating_feedback_type = selectedOption } pureJSAjaxPost(addratingAPI, requestPayload, onsaveRatingSuccess, onsaveRatingFail, function() {}, true); } function resetRatingAndFeedbackForm() { var activeStars = Array.from($ all('.rating span.rating-star.active')); (var i=0; i = 0) { return true; } else { return false; } } function getRatingCountByPostId(postId) { return new Promise(function(resolve, reject) { pureJSAjaxGet(getRatingCountBaseURL + postId + '/rating/count', function(data) { try { data = JSON.parse(data); data.meta_value ) { soles(data.meta_value); } throw("Failed to get rating count for post:" + postId); } catch (error) { throw("Failed to get rating count for post: " + postId); } }, function(error ) { reject("Failed to get rating count for post: " + postId); }, true); }); } function showErrorMessage(messageType) { var messageContainerId = '#' + messageType + '-error'; $(messageContainerId).classList.remove('hidden'); window.setInterval(function () { $(messageContainerId).classList.add("hidden"); }, 5000); } if (!isPostRatedByUser()) { getRatingCountByPostId(1584608).then(function(ratingCount) { if (ratingCount < 10) { $("#post-rating-widget").classList.remove("hidden"); } ) .catch(function(err){console.error(err);})}